« Blackhawk is helpless! He's being drawn up by that suction tentacle! »
When my co-admin learned that today's Tentacle Tuesday is all about Blackhawk, he wanted the answer to an important question. Did I know who created the character? I did not. As some of our readers may be in the same boat, I'll share what I gleaned.
Blackhawk, the leader of the Blackhawk Squadron, was supposed to have been created by Charles Nicholas 'Chuck' Cuidera with assistance from Bob Powell and Will Eisner. Why "supposed"? As with a lot of series that came into existence some 80 years ago (the first appearance of the Blackhawks Squadron was in a Quality Comics issue published from 1941! Holy crap!), and human memory and human's desire for recognition being what they are, there's a lot of squabbling about who actually did what.
« Will Eisner has at times been considered the characters' primary creator, with Eisner himself acknowledging the contributions of Chuck Cuidera and writer Bob Powell. Over the years, Cuidera became increasingly vocal that he did much more work on Blackhawk than Eisner and that he had in fact already started creating the characters prior to joining Eisner's studio. According to Cuidera, he and Powell fleshed out the concept, deciding on everything from names and nationalities, to the characters' distinguishing traits, uniforms, and the aircraft they would fly. » |source|
In 1999, Eisner addressed his view of the matter during a Comic-Con panel:
« It's not important who created it… it's the guy who kept it going, and made something out if it that's more important. Whether or not Chuck Cuidera created or thought of Blackhawk to begin with is unimportant. The fact that Chuck Cuidera made Blackhawk what it was is the important thing, and therefore, he should get the credit. »
To me, that sounds like yet another confirmation that Eisner was a really classy guy. At any rate, all we can say with certainty is that Eisner worked on early Blackhawk covers with Cuidera.
Oh, right, we're here for the tentacles. The Blackhawks have fought a variety of bizarre war machines in their time (and by "bizarre", I mostly mean preposterous). You can read quite a lot of the DC-published issues (up until no. 273) here, though I'd only recommend it for those of you who don't mind *really* suspending disbelief while reading a story. If you're one of those fuddy-duddies who actually insist on plots that make sense, move along!
On a more positive note, the art is usually quite nice. (However, there's also usually *a lot* of dialogue – peppered with French and German exclamations, as The Blackhawks are an international crew – obscuring the nice art.) The full team consists of the following braves: Blackhawk (American), Olaf Friedriksen (Danish), André (French), Chuck Wilson (American), Hans Hendrickson (Dutch), Stanislaus (Polish), and Chop-Chop (Chinese… seriously, guys? You couldn't come up with a better name for him?) Oh, and I should probably also explain that events unfold during WWII, and that the Blackhawks are fighting on the Allies' side (well, obviously).
One of the rare cases where tentacles are promised *and* delivered inside:
I have to admit that while looking up stuff for this post, I grew rather fond of the Blackhawks. It's fun to follow their adventures in completely improbable situations, to eagerly anticipate the introduction of yet another asinine machine hellbent on destruction. I also enjoyed the international flavour of the team – and Chop Chop, despite his ridiculous name, isn't treated differently from his teammates.
Y'know what the Blackhawks look like these days?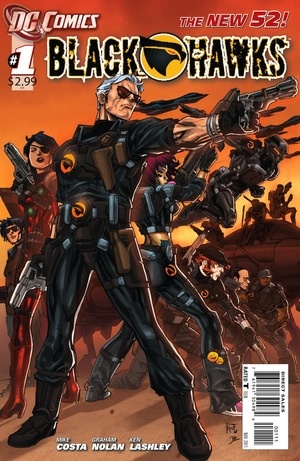 It's important to update the image of old heroes so that new audiences can relate. Now let's go rinse our eyes out with acid.
Signing off before I melt into a big puddle – this post comes to you courtesy of RG's help cleaning up the images, and of my heavy cold which made me unusually verbose 😉
~ ds